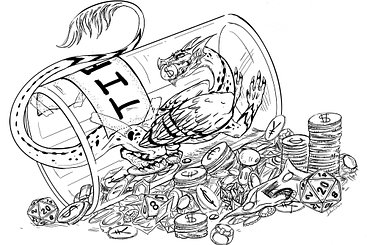 blue dreams
This piece of artwork was inspired by our pet Northern Blue Tongue Skinks.
Here is some information on Northern Blue Tongue Skinks (Tiqua Scincoides Intermedia) are native to Australia's Northern region. Living for 20 plus years, they are omnivorous and use their bright blue tongue to signal would-be predators, tricking them into thinking they are poisonous. In reality, these animals make for fantastic pets, are easy to care for, and as derpy as they can be - they are also quite intelligent.
The original was painted digitally.
This artwork is for sale in the below formats, click to be directed.
If you purchase this art it will be of higher quality than shown, and will not display my watermark, or logo.
Direct Print Purchase 11x8.5" Glossy Prints by me
in prnt Canvases, Acryclic boards, Prints etc.

My Red Bubble Store Mugs, Coasters, Shirts, and more!
If you are interested in using any of my designs for a tattoo,
please discusss with me first.

All artwork is property of Dean CS Lewis of Mystic Creations 123 Do not alter, copy, or distribute in any form.
Your support lets me do what I love!