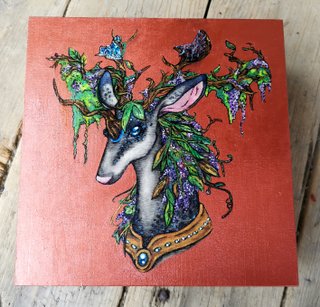 Polyhedral Party FOR SALE
$38 USD / $50 CAD Includes shipping and handling. ($40 CAD for local pick-up.)
A set of polyhedral dice on top of a pearl backdrop adorns the top of this chest, while green/gold colour-shift paint, complimented with gold glitter, covers the sides and back. The outside has been covered in a high gloss finish.
This treasure chest fits a lot more than you would expect, It can easily hold: a pencil, four full sets of polyhedral dice, and or 2-3 full dice sets, and a small/medium size miniature. Perfect for those gaming nights!
(Does not inc. dice or miniature.)
Small/Medium - L 8 1/4" X W 2 1/4" X H 1 5/8"
Treasure Chest
Each of my treasure chests is hand-painted with my original artwork and often sealed with a gloss varnish. These are all unique, one-of-a-kind creations that would make for amazing gifts.
I try to keep in stock a variety of sizes and shapes of treasure chests. My pricing for this type of commission is dependant on the type/size of chest, and the level of painted detail of the artwork. Please keep in mind that the larger the box, the more expensive shipping will be.
If you are interested in commissioning me, please e-mail me today!